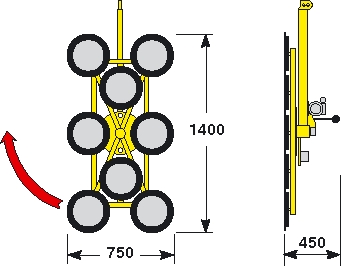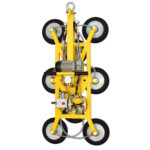 8 P.G
Mobile equipment items featuring manually controlled movement.
Can be equipped with manual 360° rotation only (with 90° increments) and also a manual tilt mechanism for vertical and horizontal positioning.
Suitable for glass sheet lifting, these units are easy to use and are particularly suitable for glass handling in workshops.
The suction system, which features an independent electrical vacuum pump, has two safety circuits and a grip that ranges from 180 Kg to 1080 Kg.
The electrical system is supplied with the voltage rating requested by the customer and can also be fitted with a switching device that allows use with three-phase, single-phase and continuous 24V power supplies.
Description

Product Brochure

Technical Data Sheet