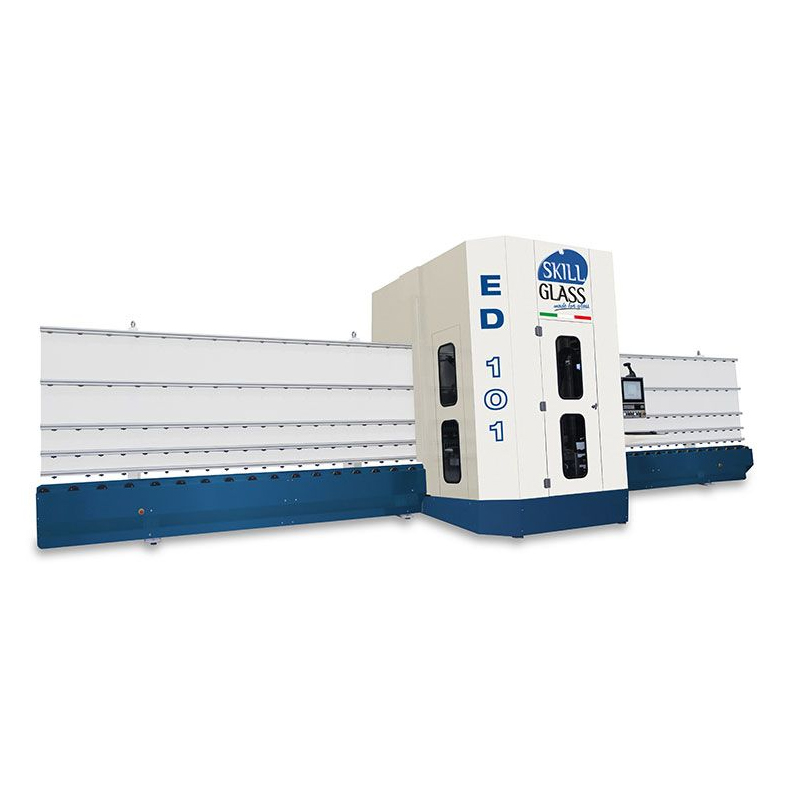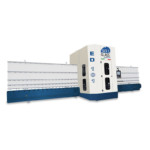 E-D 101 Vertical Machining Centre
E-D 101 is a vertical machining centre that combines multiple types of processing in one system, which is capable of carrying out processing operations with a high level of speed and precision. The machine permits any type of processing on flat sheet glass and combines all drilling and milling technology with the characteristics of a vertical grinding machine.
The machine can perform multiple machining processes:
​​
GRINDING: this is done using diamond wheels with a diameter of 150mm and can be carried out on both straight and shaped glass, including laminated and treated glass.
POLISHING: this can be performed both on large surfaces with 150mm diameter wheels and in small inserts with 50 or 30mm diameter wheels
DRILLING: thanks to the opposing heads, this is done at maximum speed and always ensures excellent quality and precision.
COUNTERSINKING: this can be done either with individual diamond tools and adjusted through the program in accordance with customers' needs, or with accessories fitted on diamond drill bits.
MILLING: thanks to the extreme sturdiness and precision of the system, milling is a quick and simple operation to perform, and with the multiple tools a milled and ground insert can be obtained in a few seconds.
Downloads/Info
Key Benefits
Description

Product Brochure
Key Benefits
Sheets manoeuvred by vacuum belts
Minimal maintenance
No limit to machining processes​
Drilling with opposing heads
Grinding with two 10 kW electro-spindles
Maximum precision and zero downtime
Vibration-free and long service life