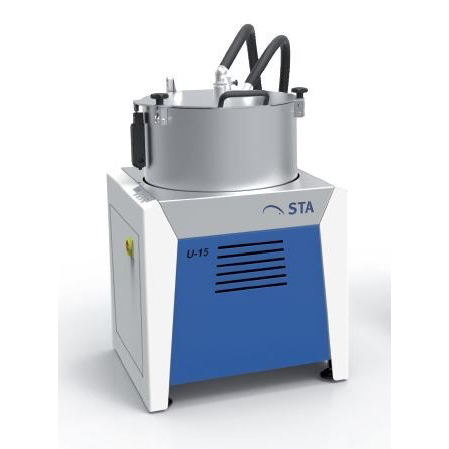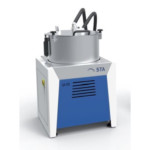 U-15
With its large effective rotor diameter, the high-performance 4 kW drive, and thanks to the special inlet hub the separator U-15 achieves a very good separation level of down to 3 µm.
The cleaned medium leaves the separator under pressure (5 m pumping head), the sludge is dry and can be removed without residual liquid.
Due to the direct drive system the separator is very compact, hence ideally suited for use in compact coolant systems or as a stand-alone solution directly placed at machine tanks.
Application: all kinds of industrial fluids, typically mechanical processing (coolant lubricant emulsions and oils, washing or vibratory grinding fluids), surface treatment or glass grinding.
The separator U-15 is also available in 3-phase version (simultaneous separation of a light secondary liquid phase, e.g. tramp oil).
Description

Product Brochure
Spec
Technical Data:
Flow rate: 1 – 120 l/min (1 – 7.200 l/h)
Maximum solid content in the medium: 2 %
Sludge retention per cycle:  12 kg
Centrifugation number:  1.950 x g
Achievable separating capacity: > 3 µm